Is Your Campus Prepared for a Cardiac Emergency?
Each year, more than 350,000 out-of-hospital cardiac arrests occur in the United States. Cardiac arrest is an electrical malfunction in the heart that causes an irregular heartbeat (arrhythmia) and disrupts the flow of blood to the brain, lungs and other organs.
Survival stats are grim.
Over 70 percent of cardiac arrests happen outside of the hospital, which means this can happen anywhere - at home, at work, or even in an educational setting
. About 90 percent of people who suffer out-of-hospital cardiac arrests die. And while CPR, especially if performed in the first few minutes of cardiac arrest, can double or triple a person's chance of survival, only about 46% of people who experience an out-of-hospital cardiac arrest get the immediate help that they need before professional help arrives.
Students play in integral part in increasing survival from cardiac arrest. Currently, 31 states require CPR training, including hands on practice on a manikin, as a high school graduation requirement. As of result of this legislation, approximately 1.8 million students (nearly 60 percent of the U.S. student population) are trained each year in the lifesaving skill of CPR.
Being prepared and confident to respond requires keeping skills as fresh as possible. That's why the American Heart Association recommends receiving CPR training every two years and why it is currently exploring ways to bridge the gap between mandatory high school training and university-level courses.
Since the needs of university level students differ greatly from the needs of middle or high school students, the American Heart Association has introduced the
brand new
CPR in Schools University Toolkit
. The toolkit consists of free resources for event activation, promotion, and social media resources for student athletes, members of a Greek organizations, resident assistants, student government officers, club members, among others. These resources provide everything needed to plan, organize and execute a CPR training event for students on campus.
Bring CPR Training to Your Campus with AHA's CPR in Schools Training Kit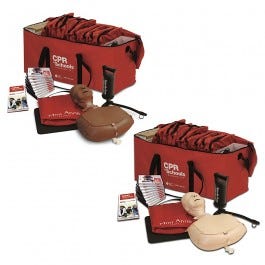 The AHA's 
CPR in Schools Training Kit
 is an all-in-one educational program that provides an opportunity for college students to bring Hands-Only CPR training to their campuses. Hands-Only CPR is CPR without mouth-to-mouth breaths. It is the recommended approach for anyone who has not been trained by a credentialed instructor who sees a teen or adult suddenly collapse in an out-of-hospital setting.
This kit allows college students to facilitate Hands-Only CPR trainings with their fellow students and spread the message of Hands-Only CPR. In this leadership role, students teach other students how to save lives.
The training kit comes complete with support from the American Heart Association, the trusted leader in heart health. These kits are easy to use, durable, and are designed to train 10 -20 people at once. The kit is also reusable, so one kit can train hundreds of people. Plus, you do not need to be an AHA instructor which is why thousands of high schools and middle schools throughout the country are currently using these kits. The kit can also be used to train campus faculty, staff and community members to extend the lifesaving skills into the community.
Students learn so much in college, but it's also important to continue the skills they learned in high school.
Please share this with friends and family to make students aware that they can become a part of the generation of lifesavers and help save a life with CPR.