Crush, Pinch, and Grip Your Way To Better Hand Health
by Gabriel Ryan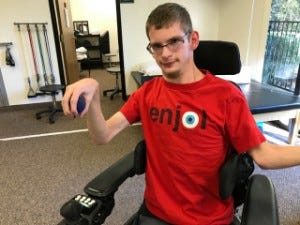 TheraBand Hand Exercisers
are small resistance balls that fit in the palm of your hand. These exercisers can be used to strengthen your grip, increase hand mobility, and improve dexterity. The Hand Exerciser comes in two different sizes
standard
and
extra-large
.
I use this type of resistance ball with my physical therapist, Laura, for the following exercises:


Reaching


Stretching my arms


To practice hand grip and release (by transferring the ball from one hand to the other)


"The hand exercisers are good for dexterity exercises and can be helpful to use when recovering from an injury or to build endurance." Laura Perry, DPT
TheraBand Hand Exercisers are:


Made of non-latex polymer


Washable with soap and water


Useful for cold therapy – just refrigerate for 1.5 to 2 hours


Useful for hot therapy – just microwave 5 second increments


Helpful for toes and foot strengthening


Here is a quick reference chart that gives you some ideas of exercises you can do with the TheraBand balls.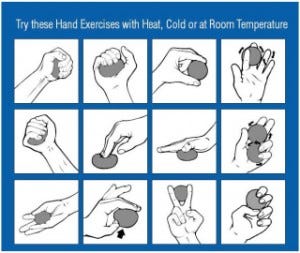 Which level of resistance is right for you? Check out the following chart:
| | | | | |
| --- | --- | --- | --- | --- |
| Color | Red/Red XL | Green/Green XL | Blue/Blue XL | Black/Black XL |
| Lbs. of Force at50% Compression | 3 lbs. | 5 lbs. | 8 lbs. | 17 lbs. |
You can learn more about and purchase the
TheraBand Hand Exercisers
and other resistance exercise related products by
visiting the EnableMart website
.