The switches with names that excite the taste buds and entice users with their marvelous features.

There are many switches on the market for people who need alternate ways to access their computers, tablets, toys or games, and other daily living activities. Figuring out which switches are right for your needs can be difficult. Comparison charts such as the
AbleNet Access Switch Comparison Chart
can be helpful way to know about a variety of switches and their features.
I recently had the opportunity to explore two types of sensitive switches, the
AbleNet Candy Corn Proximity Sensor
and the
Smoothie 125/Smoothie 75
by Pretorian Technologies Ltd.
Candy Corn Proximity Sensor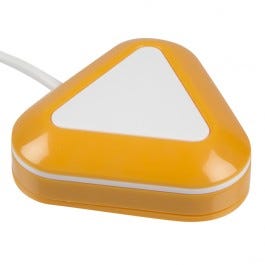 Fits in the palm of your hand


Activates without pressing or touching


Orange lights activate for visual cues


Beeping sound for auditory cues


3.5 millimeter switch jack


Can be mounted magnetically


Smoothie 125/ 75



Low profile


Entire area of switch operates with a light touch


Auditory click when pressed


Varied colors


Large 125 mm diameter and small 75 mm diameter


Three recessed holes for mounting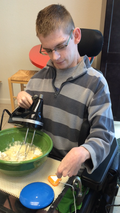 I started by connecting the switches to an
AbleNet PowerLink 4 Control Unit
to control everyday use items. The switches were ready to use out of the box, and I found them easy to operate.
Independently turning on and off lamps, an oscillating fan and even a handheld mixer (helping mix muffins) was possible using either switch. They were both easy to operate with either light touch or motion. Positioning is always an important consideration when deciding on placement and switch access. Mounting or angling the switch might take a few trials to get it right. The motion access on the Candy Corn is exciting, however you have to be 10 millimeters or closer for this to activate.
While reviewing these two products, I learned that a longtime friend, Justin, is learning to use two-switch scanning. Justin is using switches that are mounted to his wheelchair near the sides of his headrest.  His mom explained, "For Justin, turning his head to the right and left is his most reliable and purposeful movement." I decided to visit Justin so he could try the
Candy Corn Sensor
and the
Smoothie
 switches.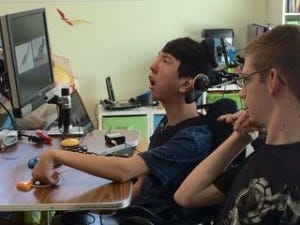 Here is what Justin's mom had to say about each:
"Justin can easily turn to the right to click a button type switch, however, his positioning isn't always exact. I like that the Smoothie switch can be activated with a light touch anywhere on its surface. Justin has a harder time turning far enough to the left to activate a button switch, by positioning the Candy Corn proximity switch within his range of movement, he was able to access his computer games and switch toys without repeated tries." - Judy Lee
Judy also said that she liked the audio cue of the Candy Corn, which prompted Justin to move his head back to midline. It was wonderful to check these switches out with Justin. With so many ways switches can be used, it was a great opportunity to explore with these lighter touch and proximity tools.
If you are looking for a lighter touch or sensitive switch the AbleNet Candy Corn Proximity Sensor and the Smoothie 125/Smoothie 75 switches might be an excellent option for you.
Learn More about Ablenet Switches at Enablemart>>
This blog was written by EnableMart Blog Writer Gabe Ryan from Sacramento, California. Gabe has used a wheelchair since he was three years old and is an experienced user of assistive technology tools. Some of these tools have been life-changing for him and he looks forward to sharing his experiences and perspectives with our blog readers. Gabe enjoys abstract paintings, is an avid music lover, and enjoys using his iPad and iPhone to connect with family, friends and the community.