by Gabriel Ryan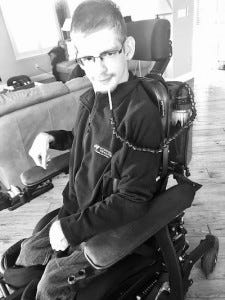 Many people struggle to drink enough water each day. What if I told you I've recently increased my water intake by 60% just by trying out a different water bottle? Getting the right amount of water can be especially challenging for those who cannot reach or hold a water bottle easily.
Whether you are generally healthy or have any health conditions, without water, we run the risk of dehydration.  In a Harvard Health Publishing article, by Heidi Godman, titled "
How much water should you drink
" published 2016, updated 2018. The question is posed, "How much water a day should you drink?" the answer, according to Dr. Julian Seifter, Senior Advisor at Harvard Medical School, "There's no one-size-fits-all answer…water intake must be individualized, and you should check with your doctor to be sure you're getting the right amount."
Like many people, I carry a water bottle every day. My favorite water bottle for many years has been the CamelBak 0.75L and the smaller version 0.4L. I like the silicone bite valve, multiple clear colors, durable design, and cap with the loop to cli it to my bag. I have found that the larger bottle is a bit too heavy for me to lift when full. The smaller bottle, I can easily hold but I drink it so quickly I am having to refill it often. Together with my family we ingeniously came up with a small bungee cord that could attach to the cap loop in case the bottle slid off my wheelchair tray or out of grip. Those of you who have had this happen while traveling in the car know all too well how frustrating it is to have your drink roll around the floor of the vehicle out of your reach until you get to your destination.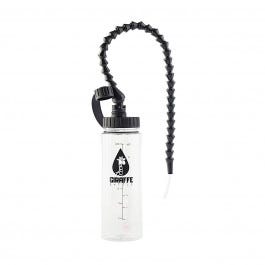 While attending the ATIA Conference in Florida earlier this year with the School Health Team, I learned about the 
Giraffe Bottle Handsfree Drinking System
.  As mentioned in their resource material, 
"The Giraffe Bottle Hands Free Drinking System allows users with various abilities to stay hydrated. The system is designed to be flexible and easy to use. The solution is great for desks, wheelchairs, beds, tables, and more. Helps people with disabilities, injuries, or other conditions including CP (cerebral palsy) or MS (multiple sclerosis). Hydration is important to your body, heart, brain, and muscles. And depending on your mobility, getting a drink isn't always an easy task. That's where the Giraffe Bottle Hands Free Drinking solution comes in. The Giraffe Bottle provides the user with another level of independence and it also frees up the parent or caregiver."
I've used a similar product with a flexible neck in the past, and although I liked the flexibility, the bottle was not clear and drinking tube not soft, so I discontinued use.  The Giraffe Bottle caught my eye right away with its flexible neck, clear bottle and soft drinking tube!  I decided to purchase one and give it a try.
Some of the key features and options when purchasing are:


The ModularHose neck is available in six lengths ranging from 9 inches to 36 inches, with an included drinking tube, valve and cleaning brush.


The 750ml bottle is clear with volume marking on the side and comes with a lid, cap and seal.


Replacement parts are individually sold. As you need to replace parts you can purchase just the pieces you need.


When my purchase arrived, I was able to use this product right out of the box, there was minimal assembly.  I purchased a modular bottle holder as well but so far; I have preferred keeping the bottle in the mesh side pocket of my backpack which is attached to the back of my wheelchair. (I'll have to spend more time with the holders and attachments and review those in a future blog.)
My favorite features of this bottle are:


I have increased my water intake by 60% because I can independently give myself a drink whenever I want to. No more water bottles sliding away out of reach.


The modular neck is easy to reach and adjusts exactly where I want to position it and I can swing it away when not in use.


The bottle is 750ml which means I can go a longer time without needing assistance with a refill. The clear bottle lets me easily see the contents without removing the lid to peer inside.


The tubing is flexible, small, and soft. It is comfortable to drink from.


The special valve attached to the drinking tube- after your first drink following a bottle refill, you don't have to sip on the drinking tube with enough suction to get the liquid from the bottle all the way through the tube to your mouth each time, the liquid stays in the tube near the opening, ready for you to drink.


One of my favorite features, the special valve, does have a minor drawback. I found that it is important to keep the end of the tube you drink from upright so that the water doesn't spill out on its own. I also found that I have gotten splashed in the face by small amounts of water if the tube is bumped. I have a good sense of humor and it doesn't bother me too much, but those sensitive to water splashed on them would want to make sure they keep that in mind.
This is a great product for those looking to increase hydration more independently. I have enjoyed using it and have received many compliments and questions about it in my travels. Stick your neck out and purchase a Giraffe Bottle today!