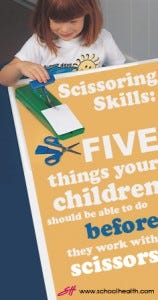 Using scissors requires the combined use of many skills. Children must incorporate fine motor skills and bilateral coordination with hand-eye coordination. Because coordination of these skills is required, scissor skills tend to develop slowly, and in stages. Sometimes, we have a tendency to become frustrated and try to help by showing how it's done. But, this "watch-me" approach isn't as effective in helping children learn effective scissor skills.
Before children learn to use scissors, they should have effectively mastered some basic coordination and motor skills. When kids can perform these basic tasks we can feel more confident in starting to work with scissors.
1. Opening and closing each hand.
One of the most basic movements for a child is to grasp something. Newborn infants exhibit the grasp reflex, but that is different than cognitively holding an item. Being able to open and close each hand helps bridge the gap between holding something by reflex and holding something because you want to hold it.
2. Isolating the thumb, index, and middle fingers.
Being able to isolate movement between the thumb and fingers is key to being able to hold and manipulate items. (If children aren't able to isolate their thumb and fingers, having full control over scissors probably isn't realistic.)
3. Using a fork or a spoon.
At feeding time, being able to hold a fork or spoon, and coordinate the movements required to get food from bowl to mouth is important. Using a fork or spoon requires the ability to hold or grasp an object, target a larger area (the bowl), and use muscle memory to make sure that food gets in their mouth instead of on their nose or chin.
4. Control wrists, forearms, and shoulders.
Coordinated bi-lateral movement is needed to manage paper and scissors. Children should be able to use and move their wrists, forearms, and shoulders with good control.
5. Using hands in cooperation with each other
. Children should be able to use their hands in a coordinated fashion to perform such tasks as taking the lid off of a jar or brushing a doll's hair. Being able to use one hand to assist the other is a necessary step toward good scissor skills.
Development of these skills may vary depending on individual children, as well as exposure and experience both at home and in a pre-school or daycare setting. It is important to remember patience as these skills develop.
If you feel that development is taking longer than expected, you can sometimes find better results by modifying the tasks or activities that children are doing on a daily basis. Be mindful of incorporating activities that will help to hone motor skills and coordination. Sometimes, it is also necessary to alter our own expectations.
When children continue to have difficulty mastering these skills, screening by an occupational therapist can often be helpful.
Once these skills have been mastered, you are ready to begin to work with children in the development of scissoring skills. Enablemart offers a range of materials to guide you in this development process, including printed guides and development cards, and even scissors that are designed to help children develop scissor skills correctly and safely.
Here are links to a few key products:
Easi-Grip, Mounted Table-Top, Push-Down, & Self-Opening Scissors
Developing Scissor Skills- A Guide For Parents & Teachers
Developing Basic Scissor Skills Work Cards