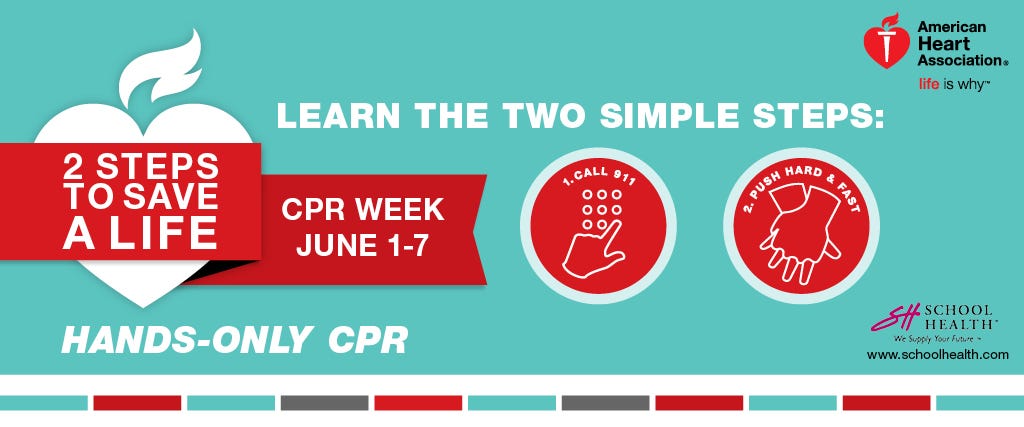 CPR and AED Awareness Week is Every June 1-7
Statistically speaking, did you know that if you are called on to give CPR in an emergency, you will most likely be trying to save the life of someone you love? This could be a parent, child, friend, or a student.
June 1-7 is National CPR and AED Awareness Week. In 2007, the American Heart Association worked collaboratively with the American Red Cross and the National Safety Council to federally designate a National CPR and AED Awareness Week. On December 13, 2007, Congress unanimously passed a resolution to set aside this week each year to spotlight how lives can be saved if more Americans know CPR and how to use an AED. In the declaration, Congress asked states and municipalities to make AEDs more publicly accessible. Schools around the country emphasize the importance of CPR and AED use during this week each year with CPR/AED classes and live events/demonstrations that are conducted.
The AHA invites you to celebrate National CPR and AED Awareness Week in your school. To help get you started, we have created FREE materials that you can print on your school's printer. Simply visit
heart.org/cprweek
to access these materials which can be used by themselves or in conjunction with an existing CPR course, like the
CPR in Schools Training Kit.
Join the AHA and its Mission to Increase Survival from Cardiac Arrest
We are asking all educators to please take a few minutes out of your day to learn a potentially lifesaving skill. In just
90 seconds
, you can learn the two simple steps to Hands-Only CPR by watching this
video
and sharing the link with your students and co-workers.
Thank you for learning how to save a life!