by Robin Ryan and Gabe Ryan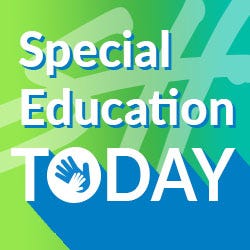 It is good to know that the Federal Special Education budget has not been cut.  At this time, it is good to review the joint guidance that has been prepared by the Federal Government in regards to the Rights of Students in regard to effective communication.
Joint Guidance on the Federal Laws
The U.S. Department of Education's Office for Civil Rights, Office of Special Education and Rehabilitative Services, and the U.S. Department of Justice's Civil Rights Division have released some joint guidance materials related to students with disabilities and meeting their communication needs
Sifting through varied legal requirements designed to support the learning needs of students with disabilities sometimes leaves educators and parents/guardians puzzled. Having guidance on the intent and explanation of different aspects of the law related to providing services is invaluable to educators and families. This encourages less time spent interpreting what a law 'might mean' and more time creating a supportive plan and accomplishing goals, moving toward successful outcomes for students.
The following guidance materials relate to the public schools' responsibility to ensure students with hearing, vision, or speech disabilities have access to effective communication through appropriate aids and services.





Colleague Letter


The DOE and DOJ Colleague Letter (in Spanish) is intended for educators. This two-page letter briefly introduces the aspect of effective communication for all students and highlights a Frequently Asked Questions Document. This letter touches on the responsibilities schools have for meeting the communication needs of students and the differing ways the three Federal laws relate – The Individuals with Disabilities Education Act (IDEA), Title II of the Americans with Disabilities Act of 1990 (Title II), and Section 504 of the Rehabilitation Act of 1973 (Section 504).





FAQ


Frequently Asked Questions on Effective Communication for Students with Hearing, Vision, or Speech Disabilities in Public Elementary and Secondary Schools. This 30-page FAQ document is intended for educators and parents/guardians. The first few pages of the document provide an introduction and detailed description of the three Federal laws. Starting on page six, the Q and A portion consists of twenty questions and their answers with related regulation and/or case references. Question #20 includes a list of additional resources for continued guidance and explanation of the provision of services. The appendices of the document are a supportive extension with a few case studies as well as a section specifically on IDEA- Part B: Communication Needs.





Fact Sheet


Meeting the Communication Needs of Students with Hearing, Vision, or Speech Disabilities (in Spanish) This two-page fact sheet is intended for parents/guardians, however is really an essential overview for anyone. This document includes six questions with bulleted answers to each one. It is a quick look at what the law requires of a school, who is eligible, what aids and services could be required and where to find more information.


Please share these must-have resources with your colleagues and families today!
As the individual communication needs of your students are determined through the appropriate process, we invite you to explore and find the assistive technology tools within the 
School Health Special Education
website.