New information from the American Heart Association about providing lifesaving care during a cardiac emergency.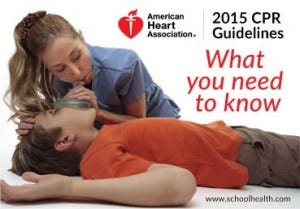 On October 15
th
2015, the American Heart Association (AHA) released the newly revised guidelines for cardiopulmonary resuscitation (CPR), and emergency cardiovascular care. The AHA continues to emphasize the importance of
HIGH QUALITY CPR
in an emergency cardiac situation. Effective CPR provided immediately after a cardiac event
can double or even triple
a victim's chances for survival.


Studies have shown that people who feel comfortable performing CPR are significantly more likely to attempt life-saving resuscitation. Routine practice is needed in order to get the rhythm down for to perform the proper depth and rate of CPR.


Here are the AHA's newest guidelines for providing high quality CPR:



Single rescuer:




The recommended sequence for a single rescuer has been confirmed: the single rescuer is to initiate chest compressions before giving rescue breaths to reduce delay to first compression. The single rescuer should begin CPR with 30 chest compressions followed by 2 breaths.




Single or multiple rescuer:




There is continued emphasis on the characteristics of high-quality CPR: compressing the chest at an adequate rate and depth, allowing complete chest recoil after each compression, minimizing interruptions in compressions, and avoiding excessive ventilation.


The recommended chest compression rate is 100 to 120 compressions per minute (updated from at least 100/min).


The clarified recommendation for chest compression depth for adults is at least 2 inches but not greater than 2.4 inches.




How do you know if you are performing high quality CPR during a rescue? With CPR, practice makes perfect. From manikins to AEDs to CPR masks, School Health offers the products that you need in order to practice proper CPR. We can help you make sure that everyone is properly trained to respond in an emergency cardiac situation.


Watch a video to see how Pasadena ISD is training the next generation of lifesavers!
Consider the following products for quality CPR and CPR practice:
| | |
| --- | --- |
| | The American Heart Association CPR in Schools Training Kit gives you the tools you need to teach the core skills of CPR and AED use in under 30 minutes. |
| | The CPR RsQ Assist helps the lay responder perform high quality CPR by combining voice commands with a metronome that indicates proper compression frequency. |
| | When training students or community groups to perform life-saving CPR, School Health recommends the LOOP CPR Training Game. The LOOP uses game-related concepts to create a compelling training experience by showing what's right and what needs to improve. |
| | The Prestan Adult Manikin with CPR Monitor is a way to practice on a life-size manikin, offering a realistic experience to provide better CPR outcomes in emergency situations. |
| | The Prestan CPR/AED Training Kit is available exclusively through School Heath and is the complete CPR/AED training solution. By combining Prestan Manikins, the Prestan AED Trainer, and the LOOP CPR training game, training groups can practice the skills they need to achieve proper rhythm and depth, as well as best practices for proper AED use. |
| | Todays advanced AEDs also provide real-time feedback that offer helpful instructions to guide responders in emergency situations. School Health recommends the Cardiac Science Powerheart G5, the ZOLL AED Plus, and the Heartsine 650P. These advanced AEDs combine ease of use and reliability to help everyone when responding in an emergency situation. |